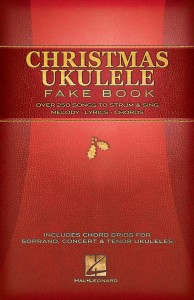 By: Russ
Aloha! Shhh! Do you hear that? That's the sound of the Christmas season upon us and do you know any Christmas songs on ukulele? If you're anything like me, the Christmas season rolls around and you think "it sure would be nice to know some Christmas songs." After all, they're catchy, bright, and even the sad ones still make you feel good in a way – a lot of them are just perfect songs regardless of your religious persuasion. Timeless, too. But the season is upon me already and it seems like it's too late to learn the songs.
"Next year," I say to myself, "I'll start learning early so I'll be prepared for any impromptu Christmas jams." But then I get busy, feel like there's a ton of time to learn, then I get all wrapped up in Halloween, and the next thing you know I'm focusing on the delicious food for Thanksgiving and then – holy crap – the season is upon me again!
Well no more! Last year I learned just one song in time for Christmas and think I did pretty good, but I'm always up for learning more to fill out my repertoire. And there are a ton of ukulele Christmas books to pull songs from, but the thing about them is that there are only so many in a book and sometimes they're a bit complex for learning something fast.
If only there was a way – a book, perhaps – that can help you get through a show. Maybe even fake your way through it if you don't know the songs' chords.
Well ho, ho, ho, there is. Hal Leonard has a Christmas Ukulele Fake Book that has over 250 songs (actually 255 if I counted right) for you to look at and quickly grasp. The ukulele chord boxes are prevalent and easy to read and you can strum along as you sing your heart out. And at 255 songs, you can rest assured that just about anything you want is located within. Yes, it's meant as more of a strummer's guide to getting you through the songs so it's not the most complex thing in the world, but it leaves room for you to embellish as you want. Once you know the chords, you can add whatever flourishes you want and still have the bones there for people to follow and be familiar with.
The book comes in 5.5 X 8.5″ size, which is convenient enough to throw in a gig bag or backpack and be good to go and the comb binding means it can lay flat, but won't have the long-term detrimental effects of spiral-bound books. There's even a label on the plastic so you can easily find it on a shelf. The small size, while great for portability, does make it a bit hard to see when you're standing up on a stage but for home use, it's a perfect size.
For a guy who loves Christmas songs as much as I do, this book is a holy grail of sorts. It won't stop me from getting more ukulele Christmas books because I like seeing different interpretations of songs and trying to learn different styles in the same song construct but I do consider my educational material to be lacking without this book. It's just that awesome.
If you're thinking about getting it, I recommend getting it soon. The season's upon us!
Until next time! Mahalo!