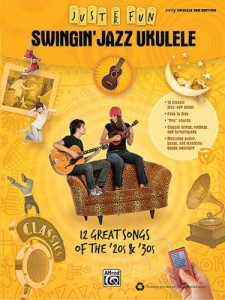 By: Russ

Aloha! Let's talk about jazz and, more specifically, jazz on the ukulele.
The ukulele shines when you play jazz on it, both with a low G and a high G string and the reason is pretty simple: due to the relative highness of the instrument's scale and the lack of an additional two low strings (the guitar's E and A strings), the tone is brighter, snappier, and happier. It's also significantly less muddy because of the missing guitar strings. This allows all of those beautiful jazz chords to shine – chords that, without those bottom guitar strings, are significantly easier to play!
But jazz is still jazz; a seemingly insurmountable wall of difficulty and blandness. Yes, the music is pretty, but learning it seems like an awful lot of effort to put into something that is JUST pretty. It doesn't grab you like rock does, energize you like soul does, or break you down like blues does. It has a stigma of being a thinking musician's music where music seems the best when it's more primal in form.
That's what I thought, anyway. But I always wanted to learn jazz because, as a young, stupid teenager, I made up rules to music and one of them was that you can't be considered a musician until you can play (and MAYBE understand) jazz. And, like an even dumber young adult, I stuck to that rule and now it's just a part of me. So I began learning jazz on the guitar and now the ukulele. I don't read music and can tell you what exactly one chord is on the guitar (more on the ukulele), so my jazz is less "understanding" and more "parroting." As I got along in playing it, I found jazz to be a rewarding genre to learn. Where you can hammer out the kinks of a new punk cover song in a few hours, jazz takes significantly longer. There's way more work to it and that's frustrating, but when you're finished and you get the kinks out of it, suddenly you feel even more rewarded than you would with easier stuff. It's the kind of genre you can feel and hear yourself and your skill growing with.
Still, though, jazz is hard. And it's big. Where do you start with such a huge genre that has so many sub-genres? My recommendation is that you start at the beginning. Specifically with Swingin' Jazz Ukulele.
This book covers jazz tunes from the 1920s and 30s, when jazz was really developing into what it would become. At this point, it was still strongly rooted in the song and not the avant garde that came later. Around this time, jazz was pretty to listen to, and the songs were great, but they weren't trying to wow you with finger acrobatics, nor were they trying to serve you their music dissertation. No, the chords weren't particularly difficult and the songs were easy to follow. It was jazz at its purest.
And this book reflects that. The songs are broken down into chords that won't kill you, with a swinging rhythm and enough jazz flair thrown in like intros, turn-arounds, and outros to really nail the jazz vibe, even by today's standards. It was written and arranged so you can sing while you play, which I don't think can be overstated. This method speaks volumes about the difficulty of the music and what is possible for the player. It really hammers home the "you too can play jazz!" goal of the book.
It might even make you a fan of the genre! We can ALWAYS use more jazz fans and crooners out there.
The songs included are:
"Ain't Misbehavin'"
"Ain't She Sweet"
"As Time Goes By"
"Bye Bye Blackbird"
"Dream a Little Dream of Me"
"Five Foot Two, Eyes of Blue"
"I'll See You in My Dreams"
"It Don't Mean a Thing (If It Ain't Got That Swing)"
"It Had to Be You"
"Makin' Whoopee"
"Sweet Georgia Brown"
"Tonight You Belong to Me"
The book retails for $12.99 and can be purchased directly from Hal Leonard, from Amazon, or through your favorite book seller.