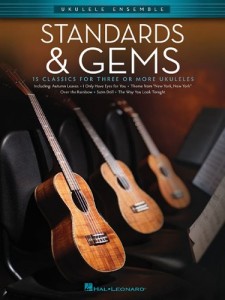 By: Russ
Aloha! While walking through a school, I saw a group of teens sitting close together in a circle playing ukulele and singing to each other. It wasn't here in Hawaii, but rather San Antonio, Texas, and the students were all there temporarily from different areas of the country. But they played the same songs and smiled as they sang.
Whenever I would jam on guitar, I always felt like the weak link in the chain, and also like I was being judged – even in the friendliest of conditions. The guitar was such a huge part of my life and it seemed a strange idea to have something so huge in my life and not be as good as the people around me. But this feeling hasn't translated to the ukulele at all. The ukulele is a very non-threatening instrument. Children learn it and you can be just as happy strumming away on four strings as you could be as a virtuoso. I stand by the idea that the ukulele is the best instrument out there not just to play and have fun on, but to get together and play together.
Sure, it has an amazing potential of being a solo instrument, but it is just as strong as an ensemble instrument.
But what do you do when you want to get together and tackle the same song as an ensemble, with different parts rather than all playing the same thing at the same time? What if you wanted to make a miniature ukulele orchestra?
Well, Hal Leonard has you covered. They sent me a review copy of Standards & Gems, from their Ukulele Ensemble series, which includes fifteen songs and is arranged for three or more ukuleles. The songs are:
Autumn Leaves
 Cheek to Cheek
Easy to Love
Fly Me to the Moon
I Only Have Eyes For You
It Had to Be You
Laura
Mack the Knife
My Funny Valentine
Theme from "New York, New York"
Over the Rainbow
Satin Doll
Some Day My Prince Will Come
Summertime
The Way You Look Tonight
Each song is laid out in musical notation without TAB, but there are chord names above the staff so you don't HAVE to know musical notation, though I would strongly recommend figuring the notes out to help yourself fill in the spots.
And look at that song list! This is easily one of my favorite song lists ever. These songs have been playing in my house since I started getting into the American Songbook after college. There's a reason these songs are called standards. They're amazing. The writing of these songs is just top-notch and I could not possibly give enough credit to the people who came up with them. They're beautiful and haunting – they stick in your head and refuse to leave. They have STRONG melodies that you could sing or whistle (or play). I'm not dismissing new music at all, but when you consider when most of these songs were written and the fact that they are still being used today in pop culture and a variety of media, they stand out as nothing short of long-lasting (and that's an understatement).
And the book is affordable! $9.99 for the whole book! Considering that the book was written for any ukulele – soprano, concert, tenor, or even baritone – with different sections for different people to play along with, this book is a steal, and I couldn't recommend it more.
It's fantastic. The songs are great, the amount of material is great, the enjoyment you could get out of it with friends or by yourself is great, and the price is low. I would say that once you get a grip on the ukulele, this should be a required purchase. Buy the book, learn these magical songs, jam with friends, and enjoy yourself!
Until next time!
Mahalo,
Russ