Bill Nash of Nashguitars has made a name for himself by creating relic'd versions of Fender's best selling models. Recently, Nashguitars introduced a new guitar called the Wayfarer:
The Wayfarer is the newest addition to the Nashguitars family. It was inspired by the symmetrical lines and distinct colors of the automotive industry in the late 50's and early 60's, as well as the flexibility afforded by the three humbucker configuration. Though designed to be unique in appearance, the Wayfarer maintains the aesthetic feel and playability Nashguitars is known for.

This build features a semi-hollow alder body, providing significant weight relief, as well as the ability to offer two different pickguard treatments. The "closed" pick guard gives a clean solid-body look, while the "open" pickguard provides a thinline appearance.

Most semi-hollow guitars are constructed with a laminated top that not only impacts the tone but diffuses sustain, and pulls energy away from the center mass of the instrument. By using our unique pickguard treatments you get the advantages of the semi-hollow body while maintaining the tone and sustain of a solid body.

The Wayfarer is not only straightforward but is extremely versatile as well. We have paired the three humbuckers with a push/pull coil tap tone knob and a five way selector switch. This guitar features DiMarzio Bluesbuckers in the neck and middle positions, and an Air Norton in the bridge. Unlike most humbuckers, the Bluesbucker is the only pickup we have come across that has a genuine single coil sound when tapped. In single coil mode this guitar has the sound you would expect from our S-Models, including the 2 and 4 position "quack". In humbucking mode you get everything you'd want from true humbucking guitar. Additionally, there's no sacrifice in sustain because these pickups have extremely low string pull while still offering high output.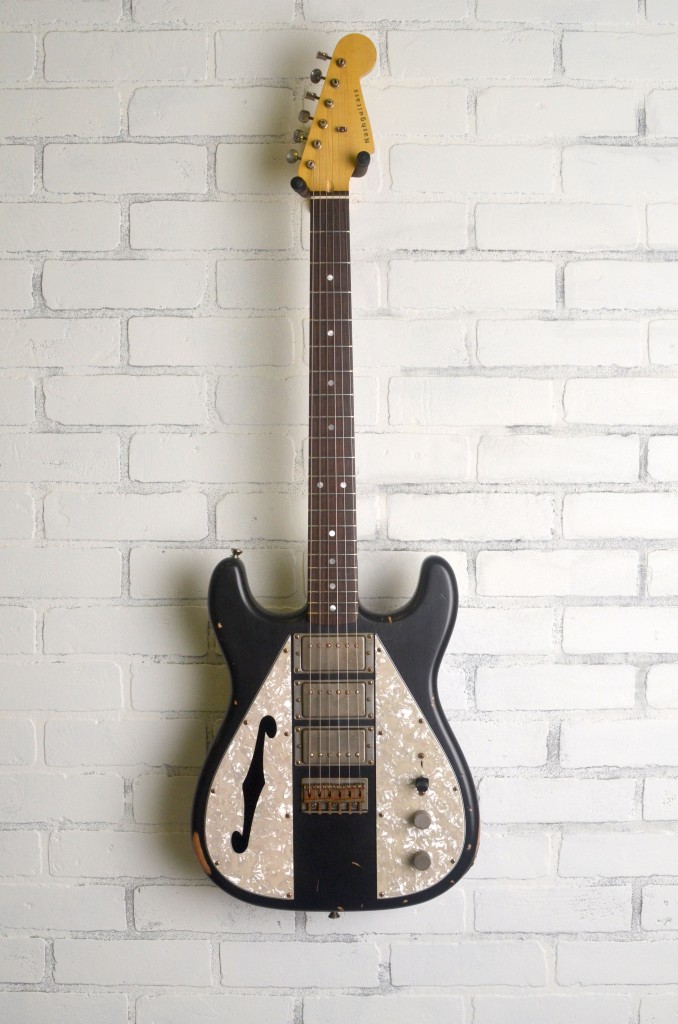 I find the pickup selection fairly interesting. I'm not sure how I would like the middle humbucker, but I'm curious how "Stratty" the 2 and 4 positions sound.
If you had told me about the pickguard configuration without me seeing it, I would have said I wouldn't like it. However, I actually like this configuration (at least in pictures), especially with the f-hole.
The street price is around $2,200.