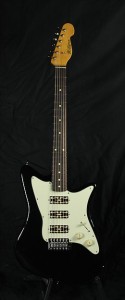 Chris Kroenlein of K-Line Guitars recently announced a new guitar model he's calling the DelMar. It's an original design offset guitar that seems like a cross between a Stratocaster and a Jazzmaster.
The guitar includes three gold foil-style pickups from Klein Pickups and a Strat-style bridge/tremolo. The guitar can be ordered with other pickups, as well.
I've owned a K-Line San Bernadino before that I thought was an excellent guitar. As nice as his Fender-inspired guitars are, I'm glad to see Chris branching out into his own designs.
The following video shows some of what the DelMar can do: