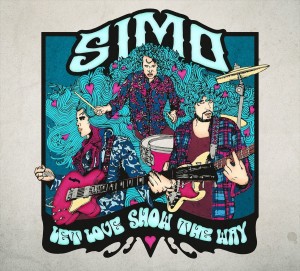 Nashville guitarist J.D. Simo and his band SIMO have released a new full-length album titled Let Love Show the Way:
The first album ever recorded at Macon, Ga.'s Big House—the communal home of the Allman Brothers Band during their late '60s/early '70s heyday—Let Love Show the Way finds SIMO not just reveling in the hallowed space's unique mojo and history, but taking it to a fresh and inspired place. As a musical unit, Simo, his longtime drummer Adam Abrashoff and bassist Elad Shapiro have an undeniable chemistry, taken to even greater heights with JD playing Duane Allman's 1957 gold-top Les Paul for every track on the record. This is the same six-string heard on the first two Allman Brothers LPs, the same storied guitar that delivered the unforgettable riff on Derek & the Dominoes' "Layla." JD is now part of an elite group of artists—including Derek Trucks, Warren Haynes and Wilco's Nels Cline—who share the rare honor of having wielded this talismanic instrument.
I really like JD's pure approach to the guitar and to his music. There's no filter between him and his guitar, and that's refreshing in today's over-produced musical environment. JD is unabashedly playing the music that he loves in the style in which it was originally played.
At times the production of Let Love Show the Way gets a little muddy, but that certainly gives a raw feel to the album, which I suspect was intended. You're basically hearing three guys play these songs live in a house with a mobile recording truck.
JD's love for vintage instruments is fairly well known. In addition to playing Allman's '57 Les Paul, he played a number of other vintage guitars and amps on the album, which he has detailed on his site.
Here's SIMO playing "I'd Rather Die in Vain," which is on the new album, a few years ago: