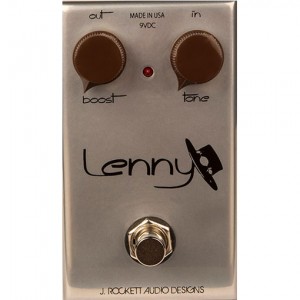 J. Rockett Audio Designs recently announced a new pedal they're calling Lenny:
Lenny was a happy accident. We set out to design a recreation of the legendary Dumble Steel String Singer but thought…who needs a loud, clean amp sound in a pedal? The guy that made the Steel String Singer come alive was none other than SRV. With that said, Lenny was born! It was our intention to create a Steel String Singer being pushed to create color, texture and feel versus just loud and clean. Simply put, this is a very musical boost that colors your tone considerably, in an inspiring way…kind of like a Neve console. There is a definite mid character, but boy does it cut through a mix!

Boost – Tons of push, which creates an inter-play with the front end of any amp

Tone – Dials in your highs, simply put

The two controls are interactive and really need each other when slamming an amp. Lenny also takes advantage of the new "Speed Switch" system
I'm not a big fan of Dumble tones, but I'm curious to hear whether they can truly capture the sound of a pushed SSS in pedal form.