Ed. note: This review was written by Guitar Lifestyle contributor and ukulele enthusiast Russ. You can read more of his contributions here, and you can follow him on Twitter here.
Aloha! I thought I would take a break from instructional reviews to give you some gear reviews instead.
So it should come as no shock to anyone that I have an ukulele. I actually have two: a concert-sized Kala which I think is the best first ukulele ever, and I have a VERY nice Pono ukulele with a Macassar ebony back and sides and a spruce top. Ugh. It's so pretty. It sounds great too – very big and ringing. Someone said it was the grand piano of ukes, and I would agree.
But both of these ukes are missing something: pickups.
I don't think it's a bad thing to not have pickups. I'm kind of indifferent to it, honestly. Yes, they're convenient, but they also make the uke heavier, there's usually batteries or charging that needs to be done, and at the end of the day it's just one more thing you have to worry about when 90% of the time you play unplugged anyway.
Still, without a pickup, how are you supposed to record?
You COULD invest a bunch of money into microphones or buy studio time, but there are better, easier ways, honestly. And they came in a box from IK Multimedia.
iRig Mic Studio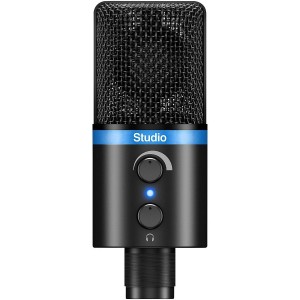 I'll start with the coolest-looking one first: the iRig Mic Studio. It's a cool 1" mic that looks like all the microphones you've seen in pictures of rock stars in the studio. It has an MSRP of $179 which is pretty affordable, and it comes with multiple cords for easy connecting, a tripod, a screw-in rotator for the stand so you can position it how you like, and a velvet-ish bag for carrying.
IK really thinks things through and makes their products to a high level of quality. Scattered at work and home are various phone or iPad stands, I use their recording interface, AmpliTube is obviously a hit, their iRig HD is an absolute must, and I even picked up their kickstand phone case during the Black Friday sale since it's so awesome and I knew the kind of quality that the company puts out.
This mic is no exception. It's weighty for its size, but that makes it feel like it isn't a toy. It sounds good and can be as sensitive as you like. You'll notice in my demo below that I had the sensitivity up a bit too much and it caught some of my louder breaths as I played the ukulele.
I like the sound of my recording, too. I think that with acoustic instruments – particularly ukulele – a lot of things can go wrong quickly. The mic can be too far away and too quiet, too close and too boomy, or it might pick up on all the noises you were trying to avoid like fretting finger scratches or that horribly annoying picking sound as your fingernail or pick noisily slides on the strings. This mic was pretty easy to set up, though. I positioned it so it would be looking at about the 10th fret and it was able to avoid the sounds of my fingernails as I strummed. I do wish I had pointed it a bit more down and possibly avoided catching my breaths, but that's a lesson for next time, I suppose! The mic also gave a more accurate representation of how the instrument sounds in real life which is good since it sounds super great.
It was easy to hook up, too. The mic comes with three cords with USB, micro USB, or Lightning ends so you could hook it up to your computer, your iOS devices, and, sure, even your Android devices.
My only complaint about the mic is probably the smallest complaint ever, and it's the bag that comes with it. This is a very nice microphone and having the cords and stand mean that you also have the versatility to go anywhere and use all sorts of devices to record your music. But the bag is too small to fit all three cords, the stand, and the mic in. So now when I go out and about, there will be a velvety bag with a mic in it inside and a plastic bag that has everything else with it so nothing goes missing.
Overall a fantastic mic that I look forward to using in the future.
You can find out more about the iRig Mic Studio on IK Multimedia's site.
iRig Acoustic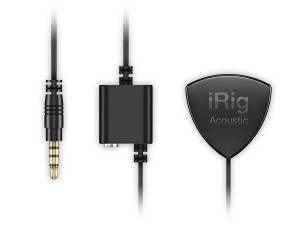 Now we'll move on to the next mic, the iRig Acoustic. IK Multimedia's first iRig was a great first step into portable recording. I used mine all the time. It was small and convenient and the sound was decent for the time. But then they came out with the iRig HD, which moved away from using the headphone jack in favor of the Lightning port on my iPhone and the sound quality difference was astronomical. We were no longer talking about recording demos or scratch tracks to go back over later with better equipment – now you could record professional-sounding material wherever you wanted ON YOUR PHONE. It was an unbelievable breakthrough in digital portable recording.
Because of this, I was a LITTLE apprehensive when I pulled the iRig Acoustic out of its super awesome zip-up case and saw that it plugs into the headphone jack of your device. What would the sound quality be like as we seem to step backward in time?
Well, we'll talk about that later. First I want to break down how it works.
First, you clip the microphone directly to the sound hole of your acoustic instrument where it's fairly out of the way. I did hit mine a time or two, but it's just a matter of getting used to it being there and I was fine after that. It's not that the mic is particularly large, it's just not normally there is all.
Then you plug into your Mac/iOS/Android/Windows device and you can plug your headphones into the middle of the iRig Acoustic. The wire running the sound is nice and thin so it doesn't get in the way of anything while you play.
Then you can use IK's AmpliTube Acoustic and play. you can use more apps than that, of course, but they're designed to go together. Personally, I used IK's app to feed into iOS GarageBand solely because that's what I'm used to, so it plays well with other apps which is great.
After that it's recording as normal.
And it's GREAT! The mic stays on your instrument when you play, it's not so sensitive that it picks up everything in the room (Hawaii is too hot to turn off the fans because you want to record), but it picks up the important things – the things you WANT it to. It's easy to use and the tone is good. It's not as natural-sounding as the iRig Mic Studio, though. I think if I were to describe it, it would be more like a pickup or Piezo system where the notes are there and they're right, but there's a snappiness there that might not show up with mics that are a bit further away. I've heard this same kind of tone in professional ukulele recordings, though, so that's not a detrimental thing.
It's not a bad thing at all, really. I prefer it to some of the other pics around tone-wise and you can't beat it for a traveling companion. The zip-up case and fact that it's ONE CORD means it's light and easy to stow away in a bag or pocket. You could put this in your pocket, go anywhere you want, and record. Not only can you record, but you can record something that sounds GOOD.
One of the possible reasons that it sounds so good is because you calibrate the mic based on the instrument you're playing and can store multiple instruments inside AmpliTube Acoustic so you can always use the calibration again and then swap out to something else, changing the sensitivity of the mic. How cool is that?!
This is a great thing indeed, because I travel a lot and bring my ukulele just about everywhere with me. Usually when an idea hits, I record a video demo of it so I can remember what my hands did, but if the song is done and ready to record, it was always a matter of waiting until I got home. No more, though. Now I can finish writing and practicing, fire up my phone and record it at a level that I would be happy publishing.
And it's only $49.99, so it's affordable too! If you play an acoustic instrument, not just the ukulele, check this mic out. It's seriously a cool and handy thing to have with you at home or on the go.
You can find out more about the iRig Acoustic on IK Multimedia's site.
But I could talk all day about these mics and it would still be lacking, so check out this recording I did simultaneously. I plugged the iRig Mic Studio into my Macbook Pro and my iRig Acoustic into my iPhone 6 Plus and recorded this. Then I saved the iPhone track to Dropbox and imported the track into my song on my Mac's GarageBand. Once I got it all set up, the whole process didn't take long at all from plugging everything in to finishing it up and saving it to SoundCloud.
The recording is broken up into three different sections:
The first section is the iRig Acoustic alone, the second section is the iRig MIC Studio alone, and the third is both mics together. I recorded them dry and without effects because with an uke like my Pono, you don't need any help and I'm glad that these mics were able to translate that sound this well.
Check it out: