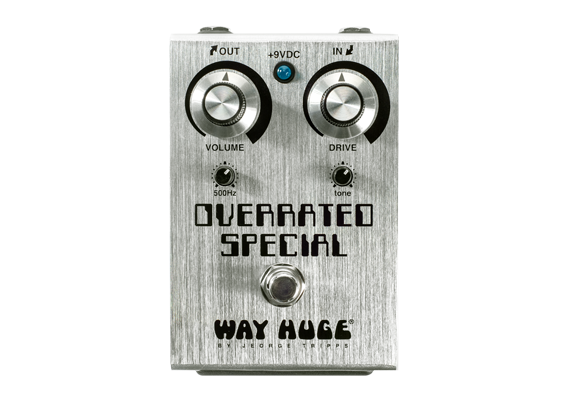 Dunlop have announced a number of new products for this year's Winter NAMM show. One of the new products is the Overrated Special:
Joe Bonamassa likes his overdriven sound bold and punchy, and the Way Huge Overrated Special™ Overdrive is designed to give the impeccable blues man just that. Jeorge Tripps took an old school Green Rhino OD, hot-rodded it for a more pronounced midrange, and added a 500Hz control so that Joe can punch up the low mids for his tasty, groovy licks. Volume, Tone, and Drive controls round out a straightforward user interface so you can plug in and get right to it. Run the Overrated Special OD in front of a clean amp for a gritty boost, or slam an already distorted channel for an electrifying surge of gain and sustain worthy of Joe Bonamassa's searing leads.
With a design that appears to be somewhat of a cross between a Tubescreamer and a Dumble-style pedal, I'm curious to hear how this one sounds.
Here's a video introduction to all of the new Dunlop Products: