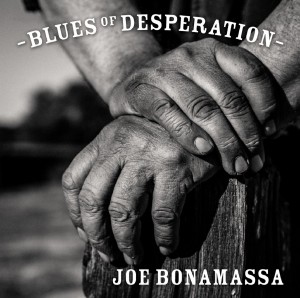 Joe Bonamassa has announced a new album, called Blues of Desperation, to be released on March 25, 2016:
Blues of Desperation is Bonamassa's most powerfully diverse and boldly realized album yet, with the material ranging from the gutsy, gritty blues call to arms of "This Train" (Joe's guitar is set to "rude" throughout) to the elegant yet emotionally shattering ballad "What I've Known for a Very Long Time" to the soul-nourishing, acoustic-based Americana of "The Valley Runs Low," on which Bonamassa's voice rises up majestically to meet Barnes, McRae and Tippins in gospel-like rapture. And then there's the bleary, tequila-soaked "Drive," dripping with the kind of raw, wicked and unsettling sensuality that could make David Lynch green with envy.

Throughout the record, Bonamassa's epic guitar playing conjures up stirring benedictions and explosive exorcisms of sound. "No Good Place For the Lonely" features some of the guitarist's most cauterizing licks yet, and the walloping title track is a white-knuckled, six-string thrill ride guaranteed to jolt the senses. Guitar fans everywhere (like those who recently voted Bonamassa "Best Blues Guitarist" in Guitar World magazine by an overwhelming margin) will consider Blues of Desperation a treasure trove of axe riches.

"There are some long solos on this record and even some mini-jams in the middle of a track where the band would just jive and crank it out," he says. "[During those jams], we do a tip of the hat to Beck and Clapton from the '70s. I think guitar nerds and music fans like myself will love it."
I must admit that I cringe a little when I read phrases like "explosive exorcisms of sound." Hyperbolic marketing aside, I think Joe's voice improved tremendously on his last album, Different Shades of Blue. That being said, I can't say that any of the songs from that album grabbed me. For this album, he came back to Nashville to co-write with several of the same people from that album, so I'm a little apprehensive about it.
Of course, I'll definitely be checking the new album out on March 25, if for nothing else than for the guitar playing, which I'm sure will be stellar.
If the EPK is any indication, the guitar sounds are huge and recorded only with Tweed Fenders instead of his typical Marshalls: