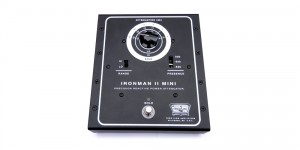 Tone King is releasing a pedal version of their well-regarded Ironman attenuator called the Ironman II Mini.
The Ironman II Mini offers state-of-the-art attenuation technology in a conveniently sized package for amplifiers of 30W or less. A Tuned Reactive Load and Volume Compensation Circuitry deliver extremely transparent attenuation all the way down to bedroom volume. The Line-Out feature provides Re-Amping or D.I. capability. A unique Solo feature provides a selectable 3db/6db volume boost under footswitch control.
I used to own a Tone King Imperial MkII amp that had the Ironman attenuator built into it, and I thought it had minimal colorization of the tone as you cranked the attenuation up. It was definitely usable. I'm curious to hear how this pedal version works.