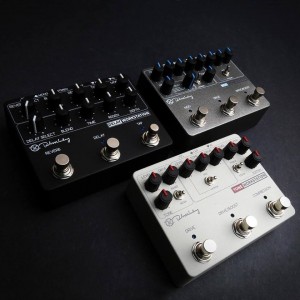 Robert Keeley Electronics are releasing several new Workstation pedals at Winter NAMM. The two pedals that have currently been announced are the Tone Workstation and the Mod Workstation.
The Tone Workstation is an updated version of a limited run pedal they made about 10 years ago, and it was recently used by John Mayer on the Dead & Company tour this past fall.
Keeley says this about the Tone Workstation:
Your front end. This is where tone develops. The first stage of amplification is critical for a sound that has clarity and delivers expressive tone. Compression, Drive, Overdrive, Boost. You get it all in the Tone Workstation. The Tone Workstation is designed to be the first stage in your pedal board. It may be the only pedal you bring to a gig…and we designed it that way.
Keeley's compressor is well-known in the industry, and in the Tone Workstation it is paired with their 1962/Katana boost and their Red Dirt overdrive.
About the Mod Workstation, Keeley says:
The Mod Workstation combines Keeley's two most popular overdrives, the 1962/Katana and the Oxblood along with a set of eight modulation effects, including Harmonic Tremolo, Phase, Chorus, Flanger, Rotary Speaker, and more.  Do you need just a touch of sheen or shimmer?  Set for ADT, Chorus, and Phaser.  If you need something vintage and full of vibe, try the Standard or Harmonic Tremolo, the Oscillating Filter or Rotary Speaker settings.  Want something wild?  Try the Flanger or the Random Sample & Hold Filter settings.  Typically these effects are best used after overdrives and distortions, so they match perfectly in the Mod Workstation.
A Delay Workstation has also been confirmed. Details have not been officially announced, but the image above released by Keeley shows that it includes tap tempo and reverb.
The Workstation pedals will be released at a price of $299 each, which seems like a nice price for the combination of effects that you get.