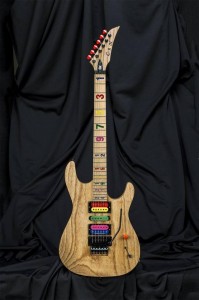 I started playing guitar at a time that Jason Becker and Marty Friedman were gaining a lot of notoriety with their Cacophony shred albums. Sadly, Becker's guitar playing career was cut short as a result of ALS.
Carvin has previously released a Jason Becker Tribute model and has now introduced a version of Becker's custom-made 'Numbers' guitar. The guitar features an ash body, stainless steel frets, and Seymour Duncan pickups. and will be available directly from Carvin in February.
I Heart Guitar's Peter Hodgson is at the NAMM show and has more details and pictures.