This past weekend I had the pleasure of visiting Carter Vintage Guitars here in Nashville. The shop was opened last year by Walter and Christie Carter, both longtime employees of Gruhn Guitars, so they bring a vast amount of experience with vintage instruments to Carter Vintage Guitars.
The shop is a welcoming place with some incredible guitars hanging on the walls and on stands around the building. Near just about every guitar in the building is a seat just inviting you to grab something off the wall and play for a while.
I've been in other shops where you weren't really allowed to touch anything without having an employee first take the guitar from the wall and put plastic on it. I can understand this position, as you don't want a customer damaging a high-priced instrument. However, it's frustrating, and a bit jarring, if you don't know the rules and you touch something only to have an employee chide you for touching an instrument.
This is not the case at Carter Vintage Guitars. I was looking at some of the guitars, and one of the owners stopped by and told me to play anything I wanted in the store.
And, to be clear, this is not a shop where there are a bunch of sub-$1,000 guitars hanging around and a few "good" ones. At Carter, they're all good ones. I only recall seeing a couple of instruments that were less than $1,000. The rest were more, and in some cases much more. For example, they had a pre-war Martin 000-45 that had a price tag of $125,000 and a 1960 Gibson Les Paul Custom priced at $60,000.
As you might expect, the Martin was stored in a case, but the Les Paul Custom was hanging on the wall and could be played by anyone, including me: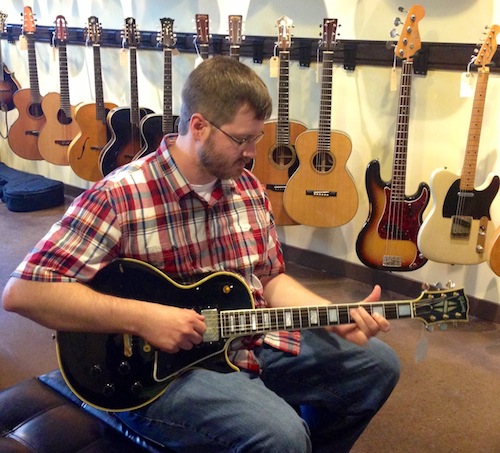 These are just a few examples of the types of vintage instruments that Carter keeps in stock. There were many other Gibsons and Martins, as well as Fenders, Gretschs, and Guilds, among many other brands.
If you find yourself in the Nashville area, I highly recommend checking out Carter Vintage Guitars. Be prepared to spend some time in there, though, because you won't want to leave.