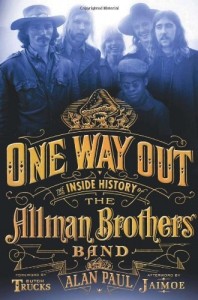 One Way Out: The Inside History of the Allman Brothers Band by Alan Paul is described as an oral history of the Allman Brothers Band and features interviews with current members of the band as well as former members, roadies, producers, and collaborators.
Tracking the band's career from their 1969 formation to today, One Way Out is filled with musical and cultural insights, riveting tales of sometimes violent personality conflicts and betrayals, drug and alcohol use, murder allegations and exoneration, tragic early deaths, road stories, and much more, including the most in-depth look at the acrimonious 2000 parting with founding guitarist Dickey Betts and behind-the-scenes information on the recording of At Fillmore East, Layla, Eat A Peach, Brothers and Sisters, and other classic albums.
I recently finished reading this book, and I learned quite a bit about the band I hadn't read anywhere else. The format of the book is a little different, and it was a little jarring at first. The book presents a topic and then includes a series of quotes from people who were involved or had knowledge of the topic being discussed. In this manner, you get all of the different perspectives of the topic rather than Paul's own interpretation of the event. For example, it's clear that Dickey and the band have different takes on his ouster from the band, and this book presents each of the perspectives in their own right.
If you're a fan of the Allman Brothers Band, I would recommend checking out One Way Out.