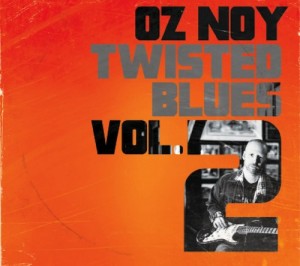 Guitarist Oz Noy has released Twisted Blues Vol. 2, which is, as the name implies, a follow up to his last album, Twisted Blues Vol. 1. Like that album, Vol. 2 features Noy's unique blend of jazz, blues, funk, and rock with the help of a few special guests.
If you're into instrumental guitar music, I think you'll like this album. Laying the foundation for the album is Noy's excellent groove and tasteful playing. While he's a great guitarist, he never lets the song be overridden by superfluous guitar playing. Which isn't to say that there isn't tons of great guitar work on this album. There is, not only from Noy, but from guests Eric Johnson and Warren Haynes as well.
Additional guests include Allen Toussaint, John Medeski, Chick Corea, Greg Leisz, Dave Weckl, and Gregroire Maret. Bassists Will Lee and Roscoe Beck and drummers Keith Carlock and Chris Layton also appear on the album.
Here's Noy talking about the album: