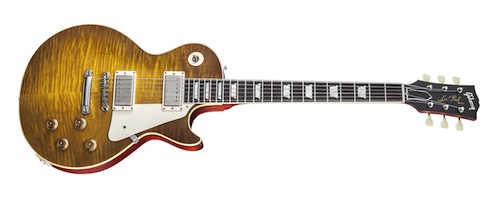 If you've been following Joe Bonamassa's career for the past few years, you probably know that he has amassed a number of original Les Paul bursts in his collection. One of those is a 1959 Les Paul called Skinnerburst (#9-1951). Gibson and Bonamassa have teamed up to create a Custom Shop model based on the Skinnerburst:
Of all of today's Les Paul-wielding artists Joe Bonamassa is among the most revered, and the astounding 1959 model that he affectionately calls "Principal Skinner" is the most beloved guitar in his extensive collection. Now, following a long-coming collaboration between Joe and Gibson Custom, we are delighted to present "Skinnerburst," a detail-perfect recreation of what is possibly the hardest working 1959 Les Paul in the world today. Through unrestricted access to the original and Joe's generous cooperation, Gibson Custom has scanned, studied and measured every spec, curve and parameter of this guitar to bring you an instrument that reproduces this prized 'burst in every possible way, exactly as it looks, feels, and sounds today.

From its delectably faded Dirty Lemon finish, to its custom-wound humbucking pickups, to its precise top carve and neck profile, the Joe Bonamassa "Skinnerburst" 1959 Les Paul gets you as close as is humanly possible to a priceless artist's guitar. Historically accurate binding colors, aged cellulose trapezoid inlays, hot-hide glue neck construction, and period-correct hardware all complement a breathtaking rendition of Joe's constant stage and studio companion. Of 150 guitars hand-aged by unparalleled ageing artist Tom Murphy, 50 will be played and signed by Joe himself; a further 150 will be treated to Gibson Custom's VOS process, making a Limited Edition of 300 guitars in total.