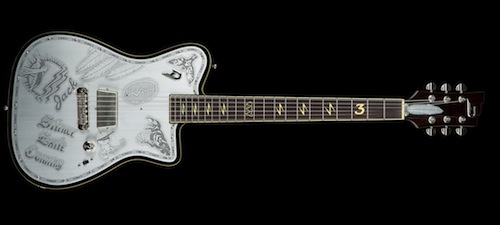 Another interesting new guitar from this year's NAMM show, the Duesenberg Guitars Johnny Depp Artist Series:
Being one of the most in-demand actors of the past 25 years and best known for his character Jack Sparrow in the Pirates of Caribbean movies we have designed an iconic guitar in the Duesenberg tradition by telling the story of Johnny's life from his tattoos; each one symbolizes a significant event in his life.

The tapped JD-63 pickup was specially designed to meet every characteristic of a classic open sounding single coil with the option of adding 1963 turns of pickup wire (1963 = Johnny's year of birth) to the signal creating a warmer crunchy sound.
Some specifications of the guitar include an alder body with an ash cap and aluminum top, glued-in neck, 25.6″ scale, and an Indian rosewood fretboard.