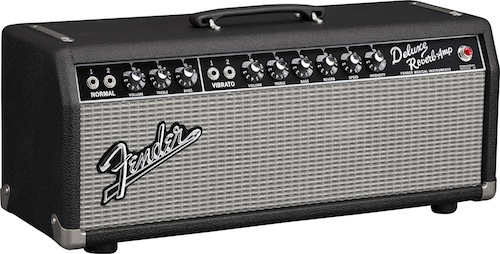 Announced a few weeks before NAMM, this new amp from Fender is pretty interesting: the Fender '65 Deluxe Reverb Head:
The '65 Deluxe Reverb Head amp in classic Black is perfect for rock, country or blues players who want a moderately powered amp they can crank up at the gig or in the studio. Featuring 22 watts of tube power, the '65 Deluxe Reverb head offers two 6V6 Groove Tubes output tubes, one 5AR4 rectifier tube, four 12AX7 preamp tubes, two 12AT7 tubes, dual channels (normal and vibrato), tube-driven Fender reverb, tube vibrato and two-button footswitch for reverb and vibrato one-off.
This looks like a great option for those people who love the  tone of the Deluxe Reverb amp but want the versatility of using different cabinets.