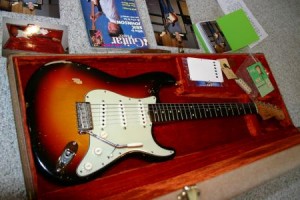 EddieVegas.com is selling Eric Johnson's 1962 Stratocaster, which is the Strat that Fender used as the basis for the EJ Rosewood signature series guitars.
It's hard to believe that Eric would sell it, but Eddie has all the paperwork from Eric claiming it was his. The asking price is $90,000, so this one is most likely for collector's only. The guitar is also listed on eBay.
You can see Eric playing the guitar in the video below.