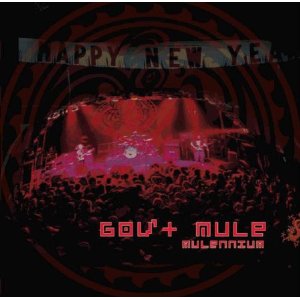 On December 31, 1999 I made the trek to Atlanta to see Gov't Mule's New Year's Eve show at the Roxy Theater. Earlier that year, Gov't Mule had released Live…With a Little Help From Our Friends, which was recorded on New Year's Eve in 1998, so I was really primed for the show. I knew it was going to be something special, and it was.
Joined by guests Little Milton, Audley Freed, Robert Kearns, Johnny Mosier, Mark Van Allen and Barry Richman, the original Gov't Mule lineup of Warren Haynes, Allen Woody, and Matt Abts played for over three hours that night to a relatively small crowd of devoted fans. If you recall, 1999 was the year of Y2K hysteria, and we didn't know what awaited us when we finally left the theater, but we didn't care. The Mule were on fire that night, and I could have watched them play for several more hours. I've seen Gov't Mule several times since then, but the New Year's Eve show is by far the best show of theirs I've ever been to.
In the 10 years since the show, I've often wondered if they would ever release it like they had done with Live…With a Little Help. I don't have to wonder any more. Gov't Mule will be releasing the show on August 3 as a three-disc collection titled Mulennium. The album has been remixed and remastered from the original master tapes from the show.
The track list of the Mulennium album is:
Disc: 1
1. Bad Little Doggie
2. Lay Your Burden Down
3. Blind Man In The Dark
4. Life Before Insanity
5. Larger Than Life
6. Towering Fool
7. 21st Century Schizoid Man
8. We're Not Gonna Take It
9. Dazed and Confused
Disc: 2
1. When The Blues Comes Knockin' (feat Little Milton)
2. My Dog and Me (feat Little Milton)
3. Lump On Your Stump (feat Little Milton)
4. I Can't Quit You Baby (feat Little Milton)
5. It Hurts Me Too (feat Little Milton)
6. Blues Alright (feat Little Milton)
7. It Is My Body? (feat Audley Freed)
8. Power of Soul (feat Audley Freed)
Disc: 3
1. Helter Skelter (feat Audley Freed)
2. Sometimes Salvation (feat Audley Freed)
3. 30 Days In The Hole (feat Audley Freed and Robert Kearns)
4. End Of The Line (feat Audley Freed)
5. Out Of The Rain (feat Audley Freed, Johnny Mosier and Mark Van Allen)
6. I Shall Be Released (feat Barry Richman, Robert Kearns, Johnny Mosier and Mark Van Allen)
7. Simple Man (feat Audley Freed and Mark Van Allen)
The only thing that could make this collection better would be a DVD of the show, but, alas, YouTube will have to suffice for now. Here is a video of Gov't Mule playing the Beatles' "Helter Skelter" with guest Audley Freed from the New Year's Eve show: