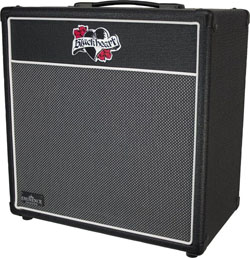 Low-watt amps have become quite popular over the past few years as people have tried to find great tone at lower volumes. Low-watt amps are not new, though. Fender introduced the 5-watt Champ amp in 1948, and many other manufacturers have offered low-watt amps since. However, it seems that more companies are offering low-watt amps than ever before. Blackheart Engineering is a company that I started hearing about a year or so ago that is making a line of popular low-watt amps. They make a 1-watt amp (Little Ant), a 5-watt amp (Little Giant), and a 15-watt amp (Handsome Devil). Additionally, if you're looking for a 100-watt head, Blackheart makes one of those too, called the Hothead.
I have the 5-watt Little Giant Combo*, which includes a 12-inch Eminence speaker. The Little Giant combo is a single-ended, class A amp that uses one EL84 tube and one 12Ax7 preamp tube. The amp includes a volume control and three tone controls: Treble, Middle, and Bass. Also included is a Pentode/Triode switch that switches the amp from 5 watts of output to 3 watts. The street price for the Little Giant combo is about $350. The Little Giant is available as a head for about $200. Blackheart amps are distributed by Crate.
First Impressions
After opening the box, I was impressed with the quality of the construction of the amp. Truth be told, I wasn't expecting much from a $350 amp, but I was pleasantly surprised. The amp is well put together and seems to be well designed. The cabinet seems solid and there aren't any tears in the covering.
Max Headroom
Many complaints about low-wattage amps center around the fact that many of them don't have much clean headroom. In other words, the amp begins distorting earlier than desired. However, the Little Giant has much more clean headroom than I expected. In fact, I was actually hoping for a little more distortion at lower volumes! I can't get natural tube distortion at volumes low enough to be played for long within my home. That being said, when you can turn it up loud enough to get natural distortion, the distortion is very smooth and warm sounding; a very satisfying tone.
Tone
The amp is very warm sounding. I have a Fender Blues Jr. amp, and the Little Giant seems a little darker and warmer than the Blues Jr. However, it's a very pleasing sound. A Strat sounds very clean through the amp, but not quite as bright as when played through the Blues Jr. The 3 tone controls are fairly responsive on the amp, so it's easy to adjust the tone to suit your tastes. I prefer a bit of midrange from my amps, and the Little Giant sounds very good with a bit of midrange. One of my favorite settings so far is putting the Treble on 5, the Midrange on 6, and the Bass on 4. This setting works well with my Strat and my PRS SE Singlecut, although I tend to roll off the tone on my Strat a little.
Pentode/Triode Switch
While I like the option of being able to switch the amp down to 3 watts, doing so cuts out some of the top end from the amp. That is, there is a noticeable difference in tone between the 5-watt setting and the 3-watt setting. Other amps that utilize the Pentode/Triode switch combination also suffer from this cut in frequency. There is also an audible pop when switching the wattage. Because the amp is a warmer-sounding amp to begin with, I tend to use the 5 watt setting more than the 3 watt setting. But, if you want to get to the distortion sooner, the 3 watt option helps you get there earlier than the 5 watt setting.
Conclusion
If you're in the market for a low-watt tube amp, there are a lot of options available to you. However, I think at $350 the Blackheart Engineering Little Giant combo amp provides a good value with a solid construction, well thought-out engineering, and, most importantly, good tone. However, even though it's only five watts, it's a loud five watts, so you might need pedals if you want good distorted tones at low volumes. The three watt switch can be used to get to the distorted tones a little faster, but you do lose a little top-end by switching to the three watt setting.
Here's a video demo of the Little Giant head and cabinet. You can get a feel for the clean and the distorted tones, which are quite pleasing:
* Disclosure of Material Connection: I received a Little Giant combo amp review unit for free in the hope that I would mention it on my blog. Regardless, I only recommend products or services I use personally and believe will be good for my readers. I am disclosing this in accordance with the Federal Trade Commission's 16 CFR, Part 255: "Guides Concerning the Use of Endorsements and Testimonials in Advertising."