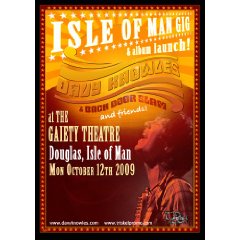 Davy Knowles and Back Door Slam recently released a live DVD titled Live at the Gaiety Theatre recorded in the Isle of Man, where Knowles is from; the show was a bit of a homecoming for Knowles. I've seen Davy Knowles and Back Door Slam live several times, and although I'm a fan of their recorded music, it doesn't do justice to their live shows, so I'm glad to see them release a live DVD.
The DVD features two hours of music from Davy Knowles and Back Door Slam, including songs from their two studio albums and a few selected covers.
The set list for the DVD is:
1. Riverbed
2. Coming Up for Air
3. Messin' with the Kid
4. Almost Cut My Hair
5. Come Home
6. Gotta Leave
7. You Don't Love Me
8. Tear Down the Walls
9. Outside Woman Blues
10. Country Girl
11. Amber's Song
12. Keep on Searching
13. In a Little While
14. It'll All Come Around
15. Hear Me Lord
16. Roll Away
Also included on the DVD are some bonus features, including the full set of the opening band Strengyn, behind-the-scenes footage of Back Door Slam, and a tour of some of the Isle of Man's historic areas.