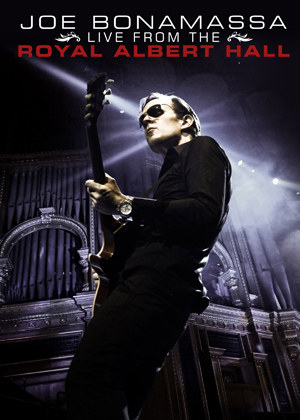 On May 4, 2009, Joe Bonamassa played to a sold-out crowd at London's Royal Albert Hall. This was the culmination of a life-long dream of Bonamassa's and a celebration of his 20 years in the music business. The performance was recorded and was released on DVD this month.
At the beginning of the DVD, Bonamassa recounts watching Cream's Farewell Concert, which was recorded at the Royal Albert Hall, and how it made him want to play the Royal Albert Hall one day. Suffice it to say, this was a special day for Bonamassa, and he brought out all the stops.
In addition to his regular touring band, which features Carmine Rojas on bass, Bogie Bowles on drums, and Rick Melick on keys, Bonamassa added a horn section and Anton Fig as a second drummer. I wondered how the additional players would affect the sound because I love the sound he gets from his regular touring band and I was hoping that wouldn't get lost. My worries were unfounded; the additional musicians really added another dimension to the music making it fuller and bigger sounding.
As Bonamassa starts the show, the camera follows behind him so that you can see his point of view from the stage. And, as he walks out onto the stage playing the intro notes to "Django", you can see the crowd give him a standing ovation, which must have been a tremendous moment for Joe.
The material Joe selected for the show features songs from his latest album The Ballad of John Henry as well as songs from throughout his solo career, including one of my favorites, "Blues Deluxe." He also played a few classics, including "Just Got Paid" and "Further On Up the Road", where he was joined by the person that inspired him to want to play the Royal Albert Hall: Eric Clapton. Another special guest, British radio host Paul Jones, joined Bonamassa to play harmonica on "Your Funeral My Trial."
Joe's playing throughout the show is, as usual, incredible. The tones he wrangles out of his Les Pauls and his amp combinations are second to none. The gear he uses includes his signature Les Pauls, a few Les Paul historic models, a Gibson Flying V, an Ernie Ball Musicman John Petrucci Baritone, an Ernie Ball Musicman 25th anniversary, and a Yamaha acoustic. He uses his usual combination of amps, which includes a Marshall Silver Jubilee, a Van Weeldon Twinkleland, a Carol Ann JB model, and a Category 5 Joe Bonamassa model.
The DVD also has a few bonus features, including a performance of "Woke Up Dreaming," which is an acoustic guitar tour de force. Additionally, a bus interview with Bonamassa is included. In the interview, he discusses some of the songs that he plays in the show and how he came to write or record them. While discussing the songs, he plays some fragments of the songs using the brand-new Marshall Class 5 amp, which sounds great.
Joe Bonamassa has previously released two other DVDs, Live at Rockpalast and A New Day Yesterday Live, both of which are very good and both of which I'd recommend. However, Live at the Royal Albert Hall takes it to a different level. I think this is Joe's best DVD so far. Not only is the performance top-notch, the production by Kevin Shirley is very well done. I had the chance to see Bonamassa a few months before the Royal Albert Hall show, and this DVD perfectly encapsulates that experience for me. I highly recommend this DVD for any fans of guitar-driven music.