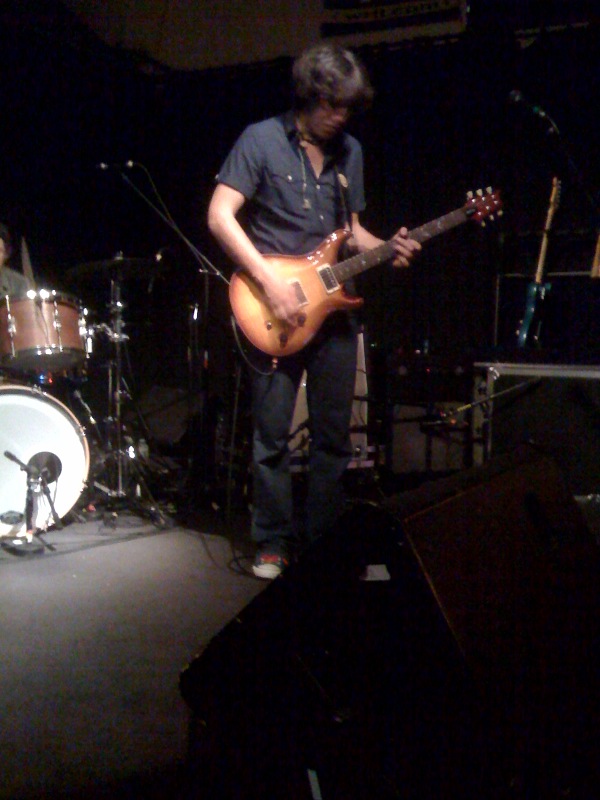 Davy Knowles and Back Door Slam played here in Nashville this past week at a local club called 3rd & Lindsley. I've seen Back Door Slam once before, but since that time, Davy and the previous members of Back Door Slam split up. Additionally, Knowles worked with Peter Frampton on a recently released new album. I was curious to see how those changes would affect the live show.
A few minutes into the show, it was clear the changes were only for the better. The new live band was surprisingly tight, even though they'd only been playing together for two weeks with only about a week of rehearsal. While the original band was good, they seemed to lay back a little more. By contrast, PK, the new bass player, and Steven Barci, the new drummer, really lay down a solid foundation. Also, Davy's playing, while excellent before, is even better.
They opened with some songs from the new album, which translated really well to a live environment. Also, as expected, they played a few of the songs from the first album. They also played a few cover songs, including songs by Crosby, Stills, Nash & Young, Creedence Clearwater Revival, and Rory Gallagher. As the show went on, the band got better and better. They really put on a phenomenal show. Knowles channels a lot of the blues-rock greats, but puts on his style on the music.
Throughout last year, Knowles' main guitar was a Fender Stratocaster. However, for this show, the Strat was present, but he played a PRS McCarty Smokeburst through a Marshall amp for the entire show, and it sounded great. He even played slide on one song, which I've never seen him do before.
After the show, my wife and I had a chance to spend a few minutes chatting with Davy and the band. We asked how he got into playing the guitar, and he mentioned that he started playing guitar after hearing "Sultans of Swing" by Mark Knopfler and Dire Straits. His father had an acoustic around the house, but no electrics, but Davy finally got his dream guitar, a Fender Stratocaster, after seeing one in a local music shop. In addition to Dire Straits, Knowles mentioned that John Mayall and the Bluesbreakers, particularly, the Beano album and Peter Green era were big influences, as was Cream and other Clapton albums. He started gigging at 12 and has pretty much been gigging ever since, and he said that he still plays all the time. It definitely shows.
I really enjoyed the show, and I highly recommend checking out Davy Knowles and Back Door Slam if they come through your area. They are going to be opening for Chickenfoot this summer, and also have other headlining shows throughout the year. If you can catch them at a small club like I did, you're in for a real treat. I can't imagine Davy and BDS playing small venues for too much longer.