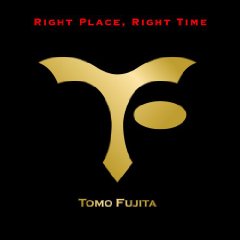 You may not have heard of Tomo Fujita, but you've probably heard of at least one his students. John Mayer, while a student at Berklee College of Music, studied with Tomo.
Tomo is not only an accomplished teacher, he's also an accomplished guitarist. He counts among his influences B.B. King, Stevie Ray Vaughan, Larry Carlton, Jeff Beck, James Brown, and Ray Charles. Each of these influences is evident in Tomo's playing, but Tomo merges each of these influences into his own style, which is probably best described as a mixture of blues, funk, jazz, and rock.
The 10 tracks on Tomo's latest instrumental album, Right Place, Right Time, fuse all of his influences into a unique musical concoction. The album starts off with the uptempo track "Catty Woman," which showcases Tomo's strong melodic phrasing. "Confidence Cat 2," the second track on the album, starts off clean and funky and Tomo's slightly distorted guitar comes in for the solo. "Texas Heat" follows up true to its title, with a Texas blues feel to it. The next song, "Sweet Home," slows things down a bit and highlights Tomo's tasteful phrasing. "Funky Thang" is another funky tune, as its title suggests. "Orange Juice and Vodka" is my favorite track on the album. It's got a funky, catchy riff that Tomo really shines over. "Gogo" highlights Tomo's trademark slap guitar stylings, as well as a nice acoustic interlude. This track also features a horn section, which is an interesting addition to the track. The next tune has an interesting title: "Drive Me Nuts," which is another uptempo song with a catchy riff. Tomo then puts his take on "Twinkle, Twinkle". He really takes the melody of "Twinkle, Twinkle" and adds a great jazz feel to it. Finishing the album is "Just Funky 2006," which is a funky, uptempo song with the horn section making a return.
I really enjoy Tomo's guitar playing on Right Place, Right Time. Tomo's a fantastic and tasteful guitarist, and this album really highlights those traits. If you've never heard of Tomo, this album is a good introduction to his music.
Tomo offers this album as part of a collection he calls the "Hot Set" which also includes several instructional and performance DVDs, his "Put on Your Funk Face" CD and enough instructional sheet music to keep you busy learning for a year. You can purchase the "Hot Set" directly from Tomo by emailing him at music -at- tomofujita -dot- com. Alternatively, you can purchase this album directly from retailers such as Amazon. If you enjoy good, and funky, guitar music, I think you'll enjoy Tomo's music.