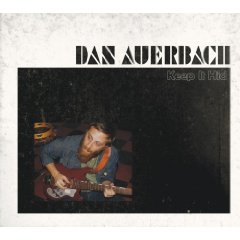 The Black Keys guitarist and vocalist Dan Auerbach will be releasing a solo album titled Keep It Hid tomorrow, Feb. 10. Unlike the Black Keys' music, which is just Auerbach and drummer Patrick Carney, Auerbach says that Keep It Hid is more of an ensemble effort, including organs and bass along with drums and guitar.
There are samples of the new album on Auerbach's MySpace page. If you're a fan of the Black Keys, I think you'll likely to be a fan of Keep It Hid. While there's certainly some differences, the Black Keys' vibe is still strong on Auerbach's solo record. That is to say, there's a heavy dose of psychedelic blues on Keep It Hid, and that's a good thing in my opinion.
Like the Black Keys' albums, Keep It Hid is being released by the Nonesuch record label. Read more about the new album on the Nonesuch site.