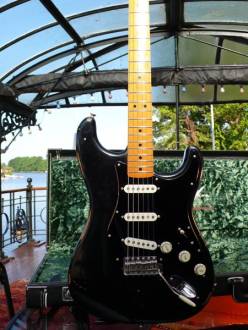 DavidGilmour.com is reporting that a Fender Custom Shop David Gilmour Stratocaster, which is modeled after Gilmour's famous Black Strat, will be released on September 22, 2008. The release is scheduled to coincide with the release of Gilmour's "Live in Gdansk" album, which will also be released on September 22.
Here's what DavidGilmour.com has to say about the guitar:
In the two years that the guitar has been in discussion, a number of prototypes have been produced, and the final version was only approved when David was happy that all elements combined to make a sound that was as close as possible to his own guitar's. The 'Black Strat' comes in a hard case (by G&G) stuffed with extras: Phil Taylor's 'Black Strat' book, a set of GHS David Gilmour Boomer strings, a copy of the 3-disc version of Live In Gdańsk, a cable by Evidence Audio, a deluxe Fender leather strap, and a David Gilmour plectrum. The interior of the case is a plush green, including embroidered David Gilmour and Fender Custom Shop logos.
There will be two models: a relic model and a 'New Old Stock' model:
• The 'Relic', which replicates the 'Black Strat' as it is today with aged parts and worn paint, plus all the wear and tear of David's heavily-used 30-year-old guitar – with no backplate.
• The 'New Old Stock' model, which replicates the 'Black Strat' as it is now – but with all-new parts, 'new' paint finish and an additional white plastic backplate. The NOS model should be found at a lower retail price than the 'Relic'.
Looks nice!
* Photo credit: DavidGilmour.com
(via Strat-o-Blogster)