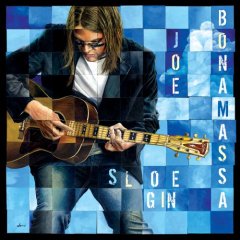 Joe Bonamassa is set to release his new album, Sloe Gin, on August 21st. Like his previous album, You & Me, Bonamassa has teamed up with producer Kevin Shirley for Sloe Gin. Tom Watson at ModernGuitars.com recently reviewed the album:
…Sloe Gin isn't a summer album. It has the makings of a year-round classic that could set a new standard for recorded blues, rock, blues-rock and a few other genres not always associated with "Joe Bonamassa the blues artist". Within the first 20 seconds of the opening track, "Ball Peen Hammer", it's clear we're in the presence of something special.
Watson has also recently posted an interview with Joe about Sloe Gin on Modern Guitars.