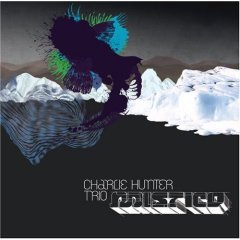 On July 31st, 7- and 8-string guitarist Charlie Hunter released his latest album, Mistico. Like many of his former albums, on Mistico Charlie blends jazz, rock and funk to create a unique sound. Playing with Charlie on this album are Erik Deutsch on piano, Fender Rhodes, and CasioTone, and Simon Lott on drums.
I had a chance to see Charlie Hunter play live several years ago, and it's amazing to watch him play his 8-string Novax guitar. In addition to the addition of extra bass strings, Charlie's Novax guitars use an innovative fanned fretboard concept. With fanned frets, the scale length is tweaked so that fret spacing is "wider for the long scale and closer for the short scale." Ralph Novak, creator of the concept, indicates that:
One of the real advantages of the Fanned-Fret® concept lies in its application to instruments like the seven-string guitar, eight-string guitar, five-string bass, six-string bass, baritone guitar, and mandolin. The range of tunings and number of strings force compromises that make these instruments poor performers or even impractical when constructed with the traditional single scale-length. The fanned-fret concept addresses those problems and makes these instruments playable and practical.
Watching Hunter play both bass and lead guitar at the same time is really interesting, but more importantly, it sounds great! If you weren't watching him, you'd probably never guess that the same person was playing the bass and lead guitar simultaneously. Below is a video of Hunter playing Just a Closer Walk with Thee.