Ed. note: This is the second in a series of posts by Guitar Lifestyle contributor Russ about the ukulele and its growing popularity among musicians and educators. See the first post: The Ukulele as an Educational Tool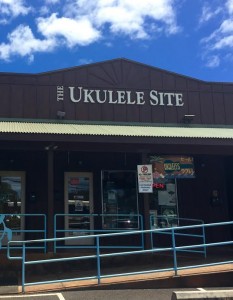 Aloha!  Last time I said that I was going to talk about what could possibly be the greatest instrument store in the world, and I did not come here to disappoint!  I initially thought that I would approach this article from the business aspect and explain why the shop is the most intelligently-run that I've ever seen, but this would be a discredit to you, dear reader, when I could instead review the shop and why I like it so much and leave the business appreciation to you.  Trust me, it will be obvious why this shop should be the model for every instrument shop ever.
The name of the shop is The Ukulele Site and, yes, it's an actual shop and not just a website, though that did feel strange to park in front of.
The shop is a little over 600 square feet, which isn't huge for a music store, but considering that ukuleles aren't known for being gigantic, they can still fit between two and three hundred ukes on display.  The ukes displayed cover a wide range of size, style, woods, sound, and price ranging from beginner ukuleles at less than $100 to ukes with price tags that boggled my mind.  And I feel really bad about that, by the way.  As a guitarist I know that these are instruments and instruments take craftsmanship and artistry to make and there is little to no correlation between size and price just like it's ridiculous to expect an amp to be cheaper JUST because it has fewer watts, but I couldn't help but be shocked.  Like I said, it was wrong of me.
The shop's vibe is very local and welcoming.  I don't mean it has a locals-only vibe, but rather when you walk in, you feel like you've been coming there forever.  The shop has a simple layout and the aesthetics (polished hardwood floor, smiling employees, and a ton of boxes of happiness on display on the wall) put you at ease.  Where some shops convey a vibe of constant surveillance with signs on every instrument that say "DON'T TOUCH!" the Ukulele Site is calm and welcoming.  My family and I walked in (a true test of how laid-back a store is is to bring a seven and five-year-old in with you) and we were greeted warmly and then left alone to our own devices.  Eventually I asked if I could play a ukulele and was given a thumbs-up from across the room which only helped put me at ease.  There was no rushing salesman coming over to pull it from the wall, direct me a chair, carefully place it on my lap, and monitor my playing for fear I might mess it up.  Instead, they trusted me.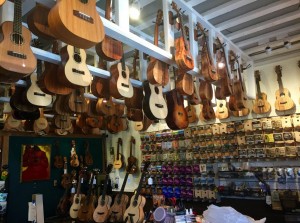 I tried out many ukes and eventually a salesperson came up and asked if there was anything he could help me find in terms of style, size, tone, price, etc.  He asked because 1) the Ukulele Site has a reputation for wanting to find the right fit for the customer so the customer walks out happy and satisfied and 2) they actually know their stuff.  Most (if not all) of the staff are avid ukulele players with a passion for the instrument – a passion that they are more than happy to pass on to potential customers.
Speaking of avid ukulele players, one of the people working the counter when we visited was Corey Fujimoto who (and I don't want this to sound weird) I have been watching on YouTube for months now.  It was weird to see him working the counter like his music hasn't been on constant rotation in my house since I started researching homeschool ukulele education.  You know, like he's a normal person.
The REASON I have been watching him for months is because the Ukulele Site also has a REALLY nifty website with all sorts of reasons you should visit it, Corey being one of them.  See, there are TONS of video samples of the different ukuleles on the site so you can see how an accomplished ukulele player can make the ukulele you're thinking about buying sounds (sometimes even the EXACT same ukulele) which means you know it has the potential to sound that great in your hands.  The videos are all shot and recorded without any studio tricks to change the sound and all in an effort to make you the customer as educated about the product as possible and therefore more satisfied with your purchase.  Most ukuleles in the higher price range get their own videos and ukuleles in lower price ranges generally get a representative video, but either way is noted in the description saying you are hearing this model of ukulele or this specific one.
There are also fantastic photos of the ukuleles from all angles so you know what you're getting.
Add to that the fact that you can email or call them and ask their advice on which uke is right for you, or for their opinions or guidance, and it's tough to feel more comfortable with your purchase.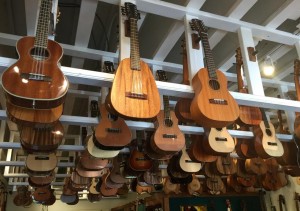 So you buy an uke either from the Ukulele Site or some other place (maybe you already have one), but you don't know how to play it or where to turn for education.  You could buy books or DVDs, or you could just go to the Ukulele Site and peruse their education section.  There are lessons from Corey, but there are also a TON of lessons from Aaron who, despite his intimidating appearance, calmly explains a variety of things ranging from beginner strumming to complex jazz, and it's all for free.  Aaron comes from a guitar background and his lessons are slow, easy to follow, and well thought-out.  He also has an instructional DVD that you can buy that covers a wide swath of lessons.
Instructional lessons and video demos aren't the only videos on the website.  They also have what may be the best introduction video to a store ever.  It's a well-shot video featuring attractive people, a catchy song, and tons of eye candy that can only come from Hawaii (waves, sand, dangerously riding in the back of pickup trucks, ukulele circles, etc) all split with scenes from the shop that lay out in seconds everything I'm saying here.  It shows customers browsing The Ukuklele Site's fairly massive uke selection, Aaron explaining different ukes, Corey recording videos of ukes, Zach responding to calls and emails about the ukes, Andrew taking pictures, Joel and co. working on the ukes from a luthier standpoint, and the ukes being boxed up and shipped out to the folks that aren't on the island.  In less than three minutes, you know and understand just about everything that makes this shop great, all with a nice song in the background and pretty Hawaiian scenery going by.
The Ukulele Site has some really cool videos.
But that's not even the coolest thing about the Ukulele Site.  The coolest thing, in my opinion, is the setup.  Every ukulele gets a setup before being shipped to you, so (for instance) if you know that you like lower action, they can accommodate it.  Even if you offer no guidance for your setup, you'll still get one and it will be thorough.  On their website is a video that details what an average setup takes and the video alone is fifteen (enjoyable) minutes that speeds up time in parts so you know the average setup is longer than fifteen minutes and covers everything from the nut to making sure the frets are level and finished, to making sure that it plays well.  All of this happens at a different shop down the road so it doesn't impact your shopping experience at the Ukulele Site, too.
And you may expect this on a high-end instrument, but they do this for EVERY ukulele.  Just think about the benefit here as a player – particularly a new one.  Part of the hassle of learning a new instrument is learning on a beginner instrument.  The action is almost always high which makes playing painful and notes sharp and the intonation was almost always off making notes sour even if they weren't pinched sharp from the distance between open and fretted.  As a result, the instrument you were learning on was a pain to play and never sounded RIGHT.  This could be VERY discouraging to a new player and possibly make them give up because they aren't sounding like their instrument idols – they aren't even sounding like their educational materials (DVD, CD, etc).  But the old adage goes if an instrument is easy to play you'll play it more and you'll get better.  The better you get the more you'll play and the better you'll get until it becomes a vicious cycle of you being awesome (and possibly alone from focusing entirely on your instrument – but this is something any good musician will say happens).
The last thing I'll say about the Ukulele Site is that the local feel of the shop, the expertise of the staff, the free lessons offered to the community and the world, and the insistence that you get the best uke you possibly can – even if it's a $55.00 beginner one – makes you feel like you're part of the shop.  The shop is so nice (in every way) that you as a customer WANT to support it – you want it to succeed – because you DON'T want it to NOT be there.  This is the kind of shop that everyone says they want, the kind of shop where you're taken care of and guided to the best instrument for you, where nobody's trying to rip you off, and where you feel like you belong – the Cheers of instrument retailers if you will (and if you're old enough to get that reference).  This feeling isn't just for the folks who live on the island, either, but the whole world since almost everything offered to me here is offered to you wherever you are (actually holding it in your hands obviously aside).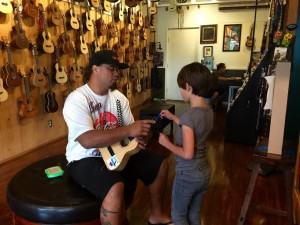 To further drive that point home, I was not contracted to talk to about the shop or compensated in any way by them or Guitar Lifestyle.  I write because I want to write, not because I'm paid to and this frees me to write whatever I want about whatever I want and if Josh wants to publish it he can.  The whole plan of my contributions to this site centered around educational materials for the ukulele and I in no way planned to review a store.  But the awesomeness of the Ukulele Site was so infectious and I was so impressed that I genuinely wanted to share it with all of you in case you wanted to buy your first uke or your hundredth.  If you want one, this is the place you should visit on the Internet (and if you visit or live on the island, you should visit it then as well).
So now that the Ukulele Site has been reviewed, I can get back to what I planned to do all along and talk about the courseware that I decided to go with for my kids' homeschool music program so I'll see you next time!
Mahalo!
Russ