A couple of weeks ago, I welcomed a new addition to my guitar family. Meet Lucille: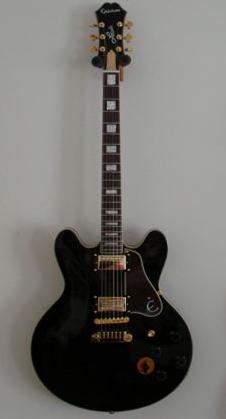 As you can see, Lucille is the Epiphone version of B.B. King's signature Gibson guitar called Lucille. I've always loved the tone that B.B. gets live and on record, and when I was looking for a new guitar, I wanted something a little different than a Strat or a Les Paul. A hollow-body seemed to fit the bill.
One interesting feature of the Lucille guitars is a Vari-tone control. This feature provides 6 different tone settings that allow you to choose from different tones, even simulating single-coil tones. Another difference between the Lucille guitar and other hollow-bodies is that the Lucille guitar does not have f-holes, which helps reduce feedback.
I've only had the guitar for a few weeks, but so far I've been very pleased. I love the tone that the guitar produces, and it plays very smoothly. This guitar is pure blues!