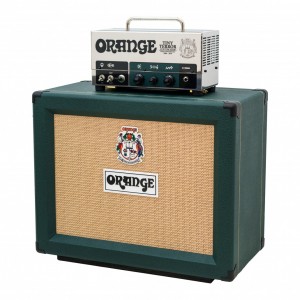 It's hard to believe, but the Orange Tiny Terror amp has been out for 10 years. To commemorate the occasion, Orange has introduced a 10th anniversary version of the Tiny Terror with a matching 2×10 cabinet:
Codenamed 'Shiny Terror', the 10th Anniversary model is a point-to-point hand-wired version of the original, housed in a stunning mirror-effect, polished stainless steel chassis. Using only the finest quality components without a turret board in sight, each amp head also comes complete with its own open-back speaker cabinet – not sold separately. Finished in British racing green and fitted with a brace of 10" Celestion G10 Gold alnico speakers, the pair dovetail seamlessly to produce the ultimate Terror tone.
Only 110 of the head/cabinet half-stack sets will be made and will only be sold together.
Hear original designer Adrian Emsley and several Orange artists speak about the Tiny Terror: